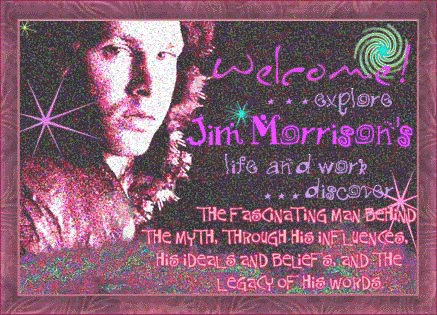 Welcome to Waiting For The Sun!


The purpose of this message is to provide you with a short guide to the content and features here at Waiting For The Sun, so that you can easily find your way around the site.


Clickable links to every article and feature the site offers are on The Navigation Page. Use the right side button pad for basic site navigation. Other links are available through graphics which appear throughout the navigation page, such as special features, etc.

The center section of the Navigation Page offers a sampler of the newest articles, features, and photo albums.

Some of the main content features available at Waiting For The Sun are:

ORIGINAL ARTICLES

Original articles on all aspects of Jim Morrison's life and work are written by numerous talented writers. New articles will be added on a regular basis, and will always be marked with a 'new' icon so that you can easily determine which articles you have not yet read.

SPECIAL FEATURES

Features which are more visual in nature will also be added regularly. Features currently in development will cover many aspects associated with Jim's life, including a visual history of Venice Beach, a journey down New Mexico's "Turquoise Trail" where Jim encountered his pivotal shamanic calling experience as a four year old child, and many more.

OTHER SITE FEATURES

Visit the places where Jim lived, worked and played, by clicking on the Webcams graphic on the navigation page. See Venice Beach, 8 Paris locations, and a roving L.A. webcam. There is even a 'Lizardcam!' Note: Webcams are best viewed during daylight hours, with the exception of Tipitina's, which has webcams available during evening show times.

THE STORES

Books, music, videos and DVDs on Jim and the Doors are available through the site, at the 'Doors Store'. Future stores are also planned to provide similar materials on related topics:

The Psychedelic Sixties store will feature the music which defined the time, as well as books on all aspects of this seminal decade of change, from social issues and cultural phenomena, to the awakening consciousness which permeated every aspect of life for the Youth Culture.

The Universal Mind Store will explore the philosophies and spiritual aspects of Jim's life, from Shamanism and similar ecstatic religions, to Eastern Philosophy, surrealism and other philosophies.

Jim's Bookshelf will provide links to books, music, videos and DVDs on Jim's creative influences, including the Blues, the Beat Generation writers, the romantic poets, film, and other media and individuals whose work significantly influenced Jim directly or indirectly.

Also planned is a source for rare and out-of-print books on Jim, The Doors and other related topics. Items will be added to each store on a regular basis, as they become available. I have spent hours looking for these titles for my own collection. My intention is to make it easy for you to add these titles to yours. And by shopping the stores at Waiting For The Sun, you will be supporting the continued growth of this website, assuring the expansion of content and features. So I thank you in advance for your patronage!

SITE ARCHIVES

All articles and features are archived for easy access any time you visit the site. The 'What's New' graphic in the right column is provided to make it easy for you to see what has been added to the site each time you visit.

FUTURE GOALS

I plan to add original articles and features to Waiting For The Sun on a regular basis. I am blessed with many years of common experience in numerous areas which influenced Jim's life, including many years experience in the music field, as a recording engineer and producer; study in philosophy, art, writing, ecstatic religions, including shamanism and mythology; and I have spent several years doing extensive research on others. I intend to draw on this experience and research to create original content which is available nowhere else, and which will be provided in the interest of promoting thoughtful inquiry - something which I believe was of great importance to Jim. In the coming months I also plan to conduct a series of exclusive interviews with people who have written about Jim and who knew and worked with him. Several other talented writers have, and will continue to, contribute to the site content in the coming months.

SUPPORT THIS SITE

A great deal of time and effort goes into the research and development of this website, as well as ongoing expenses associated with the hosting services, software and research materials required for its existence. If you enjoy the articles and features you find here, please support the continued growth of this site by purchasing books, music, video and DVDs through the site stores links, and make the choice to use the links on this site to patronize Amazon and other merchant sites. Your support will insure that this site may continue to grow over time.

JOIN THE WAITING FOR THE SUN MAILING LIST

It's easy to sign up for the website mailing list. This periodic newsletter will update you on the latest articles and features at Waiting For The Sun.

I hope you find this brief guide to Waiting For The Sun helpful, and that you will visit on a regular basis. Please feel free to leave feedback about the site. Thanks for coming, and come back again soon!